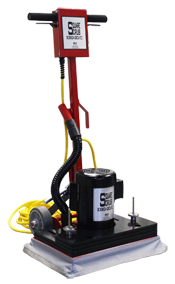 EBG-20/C 
The EBG-20/C Surface Preparation Machine features a smooth 3450 rpm motor, 50-foot 14 gauge power cord with lighted hospital grade plug, weighs in at 158 pounds standard and with a full weigh set-up boasts 329lbs. The 20/C is versatile enough to provide total floor preparation solutions. The 6"x2" non-marking wheels and ball bearings are coupled with a 3/4" axle for greater mobility.
The 20/C comes standard with slotted weights for fast and easy removal, allowing you to tailor the machine to the specific needs of your work surface. The 20/C also includes a vibration reducing Isolated Handle and a Dust Containment Kit. An optional two-piece handle is also available
.
Machine Base Price: $3588.00
Dust Containment Kit: Included
Two-piece Handle: $101.72
 Shipping included* on all online orders.
* Within the United States. For international orders, please call for pricing.